Praise Galakrond!
Praise Galakrond!
Give a minion +1 Attack. Invoke Galakrond.
"Turn to Galakrond, Chapter 3 Verse 12. 'SNARL! ROAR! GRAAAAGH!' Let us reflect on this wisdom."
Praise Galakrond! is a common rogue spell card, from the Descent of Dragons set.
Praise Galakrond! can be obtained through Descent of Dragons card packs, through crafting, or as an Arena reward.
| Card | Crafting cost | Disenchanting |
| --- | --- | --- |
| Praise Galakrond! | 40 | 5 |
| Golden Praise Galakrond! | 400 | 50 |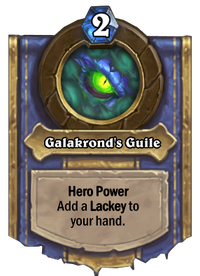 Please add any available information to this section.
The attack buff is negligible, making this card mostly useful for the Lackey and upgrade on Galakrond, the Nightmare and Umbral Skulker. It is also very useful for triggering combo effects, provided you have a minion to use it on.