Portals to Another Dimension
"Portals are tearing open everywhere! What lies beyond is something strange, yet familiar... Choose a class to start with a few cards and then choose a Portal-type to fill the rest of your deck."
Portals to Another Dimension is a Tavern Brawl. It debuted on March 21, 2018.
This Tavern Brawl is part of Starcraft's 20th anniversary celebration.
History
[
edit
]
Overview
[
edit
]
This Tavern Brawl sees players doing battle with 10 random class cards in their deck. On their first turn, they get to choose one of three Portal cards. 20 of them will be shuffled into your deck and 2 cards will be drawn.
The Portals are similar to Unstable Portal, but with a Mana cost of 1 and each portal creates a random thematic card from a large pool of possible cards.
Special cards
[
edit
]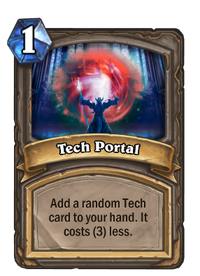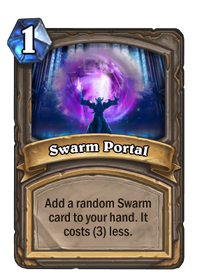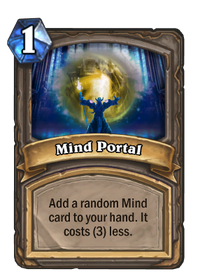 These choice cards are used at the start of each Brawl.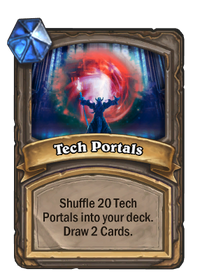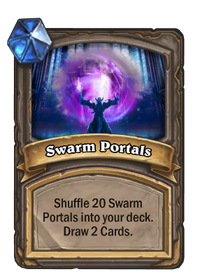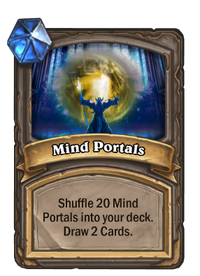 Strategy
[
edit
]
Here is a summary of each of the portals:
Possible cards
[
edit
]
Mind Portal
[
edit
]
Swarm Portal
[
edit
]
Tech Portal
[
edit
]
This brawl was created to celebrate StarCraft's 20th anniversary. The three portals are references to the Terrans, Zerg, and Protoss respectively, the three main factions in StarCraft.
| | Tavern Brawls |
| --- | --- |
| Constructed | |
| Randomized | |
| Premade | |
| Brawliseum | |
| Cooperative | |
| Single-player | |
| Fireside Brawls | |