Plague of Madness
Plague of Madness
Each player equips a 2/2 Knife with Poisonous.
Don't bring a candle to a knife fight.
Plague of Madness is a rare rogue spell card, from the Saviors of Uldum set.
Plague of Madness can be obtained through Saviors of Uldum card packs, through crafting, or as an Arena reward. Regular Plague of Madness can also be obtained through the Highest Rank Bonus chest at the end of a Ranked season.
| Card | Crafting cost | Disenchanting |
| --- | --- | --- |
| Plague of Madness | 100 | 20 |
| Golden Plague of Madness | 800 | 100 |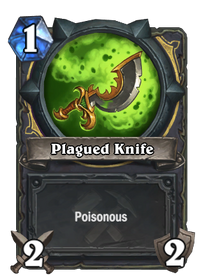 This spell's main purpose is to give you easy removal to instantly kill problematic minions using a Poisonous weapon, but at the cost of your opponent having the same advantage. With its cheap cost, it can easily be combined with weapon-destroying cards like Acidic Swamp Ooze to keep the advantage all to yourself. Alternatively, running Battlecry-orientated minions with negligible bodies, and possibly returning them to hand, or playing Deathrattle cards that your opponent does not wish to activate, can lessen your opponent's knife.
Due to its cost of 1 mana, Plague of Madness can be played on your first turn to give you a 2-attack weapon with Poisonous before having to rely on Dagger Mastery, allowing you to remove cheap high-health minions like Voidwalker or attack face straight away.
It is also useful for destroying your opponent's weapon and replacing it with a weaker one, in emergency situations. Such instances can include your opponent having a powerful weapon like the Woecleaver or Doomhammer.