Ol' Barkeye
Ol' Barkeye
Who gave a high-powered sniper rifle to a gnoll?
For the Tombs of Terror boss, see Ol' Barkeye (boss).
Ol' Barkeye is the hunter hero one can pick for The Dalaran Heist.
Type
Emote
Selected
Me! I'm nexties. GIMMES UP THE GUN!
Opening remark
Locksed up and loaderted!
Thanks
Yous nice.
Well Played
Nice shot!
Greetings
Hhhhaaaiiiiiii...
Wow
That was phernomergnaw!
Oops
Misfires...
Threaten
I shoots! I shoots, you falls down!
Sorry
Gettin's sloppy!
Concede
I go home now.
Thinking [1]
Conundrummage...
Thinking [2]
Gots to... Gots to... hmm...
Thinking [3]
Hmmmm...
Almost out of time
Oh burny thing!
Almost out of cards
Cards is almost used up.
Out of cards
My cards is gone!
Error: Too many minions
No rooms!
Error: Too many minions

(Streets of Dalaran)

Streets is too narrow!
Error: Generic
I can't do that!
Error: Hand already full
I gots too much stuffs
Error: Hero already attacked
I already dids a thing!
Error: Minion not ready
That one gots to get ready.
Error: Minion exhausted
That minion attacked already.
Error: Not enough mana
Needs more mana.
Error: Need a weapon
Needs a weapon!
Error: Can't play that card
I can't.
Error: Can't target stealthed minions
That one's hiding.
Error: Not a valid target
Gimmie target!
Error: Must attack taunt minion
There's one teasering me!
When Bomb Toss is played
Hey! Catch!
When Hunter's Mark is played
I've sighted you up!
When Lock and Load is played
Hahaha! Ready to shootshootshoot!!
When Hyperblaster is played
Call this "Barkeye"!
Representing the Hunter class, Ol' Barkeye's card pool contains various Hunter playstyles such as Beast synergy, Deathrattles, Mechs, Secrets and spells. His alternate Hero Power Opportunist is mainly suited toward an aggressive minion-centric playstyle, while Pet Training is useful for Quest Hunter or decks which regulate tempo to avoid burning out your card supply.
Ol' Barkeye has synergy for plenty of treasures or Anomalies; cost reduction effects (alongside treasures like The Muscle and Murgatha) allow him to build up his board quickly in one turn, Elixir of Vigor can allow him to complete The Marsh Queen sooner, Deathrattle duplication and Nesting can double the efficiency of his Deathrattle cards, and Stargazing allows him to either deal 4 additional damage to the enemy hero or gain two Shifting Chameleons for 0 mana to stay prepared. Expedite and Reductive can allow him to play 1-mana minions for free, but their reduced cost makes them invalid to make progress on The Marsh Queen.
Ol' Barkeye is unique to Hearthstone. He is a gnoll who has been given a high-powered sniper rifle by Dr. Boom.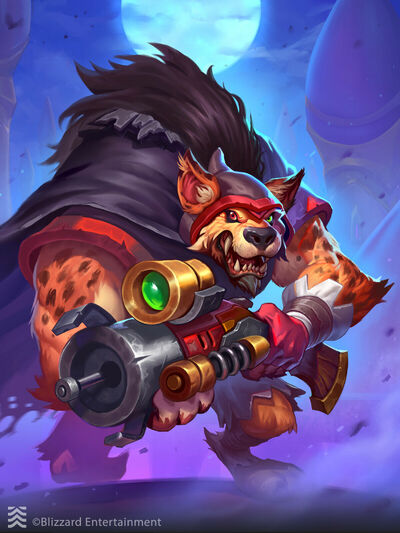 The Dalaran Heist
Heroes
Chapter 1: Dalaran Bank

| | |
| --- | --- |
| Level 1 | |
| Level 2 | |
| Level 3 | |
| Level 4 | |
| Level 5 | |
| Level 6 | |
| Level 7 | |
| Level 8 | |

Chapter 2: The Violet Hold

| | |
| --- | --- |
| Level 1 | |
| Level 2 | |
| Level 3 | |
| Level 4 | |
| Level 5 | |
| Level 6 | |
| Level 7 | |
| Level 8 | |

Chapter 3: Streets of Dalaran

| | |
| --- | --- |
| Level 1 | |
| Level 2 | |
| Level 3 | |
| Level 4 | |
| Level 5 | |
| Level 6 | |
| Level 7 | |
| Level 8 | |

Chapter 4: The Underbelly

| | |
| --- | --- |
| Level 1 | |
| Level 2 | |
| Level 3 | |
| Level 4 | |
| Level 5 | |
| Level 6 | |
| Level 7 | |
| Level 8 | |

Chapter 5: Kirin Tor Citadel

| | |
| --- | --- |
| Level 1 | |
| Level 2 | |
| Level 3 | |
| Level 4 | |
| Level 5 | |
| Level 6 | |
| Level 7 | |
| Level 8 | |
| Level 9 | |
| Level 10 | |
| Level 11 | |
| Level 12 | |

Tavern