Oasis Surger
Oasis Surger
Rush
Choose One - Gain +2/+2; or Summon a copy of this minion.
Surge's up, dude!
Oasis Surger is a common druid minion card, from the Saviors of Uldum set.
Oasis Surger can be obtained through Saviors of Uldum card packs, through crafting, or as an Arena reward.
| Card | Crafting cost | Disenchanting |
| --- | --- | --- |
| Oasis Surger | 40 | 5 |
| Golden Oasis Surger | 400 | 50 |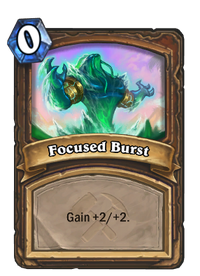 A versatile Choose One minion for board control. Choosing +2/+2 lets you take out bigger minions and have it be more likely to survive, while summoning a copy allows for removing two weaker minions or take out one big minion with 6 Health. It's significantly more powerful if it can get both choices, making a good inclusion for decks with Untapped Potential.