Nozdormu (Battlegrounds)
For the Descent of Dragons version of Nozdormu, see Nozdormu the Timeless.
Nozdormu is a hero that the player can pick in the Battlegrounds game mode.
For more information, see Battlegrounds.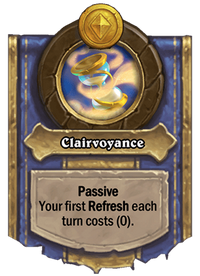 Nozdormu's hero power is considered to be very strong as it amounts to the equivalent of one extra gold per round in phases of the game where refreshes are frequent. It also allows the player to immediately reroll after upgrading on turns when this would normally not possible (e.g. a 'typical' turn 5) thus giving the opportunity to pick higher tier minions before other players.
Please add any available information to this section.
Battlegrounds
Heroes
Cards

Tier 1

Tier 2

Tier 3

Tier 4

Tier 5

Tier 6

Retired

Heroes

Minions