Nerubian (Nerubian Egg)
Nerubian is an uncollectible rare neutral minion card, from the Naxxramas set. The minion is summoned by Nerubian Egg's Deathrattle.
For more information, see Nerubian Egg.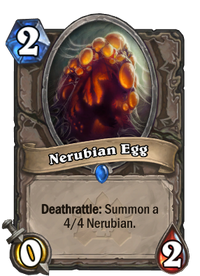 Summon

I live.
Attack

Sustenance.
From Wowpedia:
Nerubians are an ancient race of intelligent arachnoids native to Northrend within the kingdom of Azjol-Nerub.