Necrotic Plague

No results
Necrotic Plague
Set minions in your opponent's hand and deck to 1/1.
Necrotic Plague is a boss spell used in the Lich King encounter in Knights of the Frozen Throne.
For more information, see The Lich King (boss).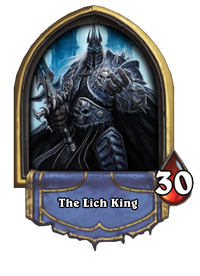 This card is only played if the player is starting the match with a Shaman hero.
*This card's artwork comes from the World of Warcraft Trading Card Game "Assault on Icecrown Citadel" series, for the card Remorseless Winter.
The player should consider using buff spells and token generating characters in this fight.