Mr. Chu
Mr. Chu
This black-market bodyguard is the new muscle of E.V.I.L.
For the Tombs of Terror boss, see Mister Chu.
Mr. Chu is a warrior hero one can pick for The Dalaran Heist.
Type
Emote
Selected
I understand you need some muscle?
Opening remark
You are in my way.
Thanks
Many thanks.
Well Played
You are a formidable foe.
Greetings
This is not personal. This is just business.
Wow
I am astounded.
Oops
A mistake...?
Threaten
This only ends one way.
Sorry
I am sorry.
Concede
Boss will not like this...
Thinking [1]
Hmmm.
Thinking [2]
If only... hmmm...
Thinking [3]
Must apply pressure...
Almost out of time
It is time to move!
Almost out of cards
Few cards remain.
Out of cards
I am out of cards!
Error: Too many minions
There is not enough room.
Error: Too many minions

(Streets of Dalaran)

These alleys are too narrow!
Error: Generic
I cannot do that.
Error: Hand already full
My hand is full!
Error: Hero already attacked
I already attacked!
Error: Minion not ready
That minion needs time to get ready.
Error: Minion exhausted
That minion already attacked.
Error: Not enough mana
I need mana.
Error: Need a weapon
I need a weapon. A big one.
Error: Can't play that card
I cannot play that.
Error: Can't target stealthed minions
That coward is hiding
Error: Not a valid target
Give me a target!
Error: Must attack taunt minion
That one is taunting me!
When I Know A Guy is played
My contacts run deep.
When Sleep with the Fishes is played
Let us weed out the weak.
When Brass Knuckles is played
*chuckles*
When Brawl is played
It's time to get rough.
From Wowpedia:
Mister Chu is the bodyguard of Madam Goya. He was originally found accompanying her at the Black Market in the Veiled Stair and later relocated with the rest of the Black Market to the Ring of Blood in Nagrand, followed by the Underbelly in Dalaran.

In both pieces of artwork Mr. Chu has appeared in, he has been drawn incorrectly. Pandaren only have 4 Fingers in total on each hand, but Mr. Chu is drawn with 5 Fingers.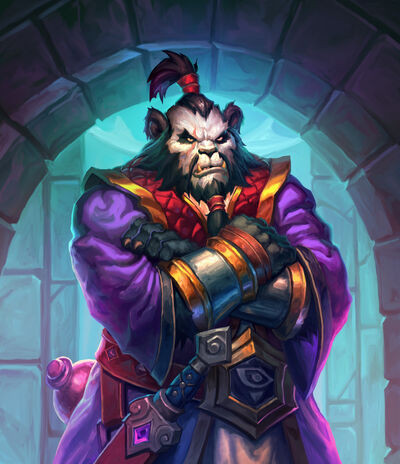 The Dalaran Heist
Heroes
Chapter 1: Dalaran Bank

| | |
| --- | --- |
| Level 1 | |
| Level 2 | |
| Level 3 | |
| Level 4 | |
| Level 5 | |
| Level 6 | |
| Level 7 | |
| Level 8 | |

Chapter 2: The Violet Hold

| | |
| --- | --- |
| Level 1 | |
| Level 2 | |
| Level 3 | |
| Level 4 | |
| Level 5 | |
| Level 6 | |
| Level 7 | |
| Level 8 | |

Chapter 3: Streets of Dalaran

| | |
| --- | --- |
| Level 1 | |
| Level 2 | |
| Level 3 | |
| Level 4 | |
| Level 5 | |
| Level 6 | |
| Level 7 | |
| Level 8 | |

Chapter 4: The Underbelly

| | |
| --- | --- |
| Level 1 | |
| Level 2 | |
| Level 3 | |
| Level 4 | |
| Level 5 | |
| Level 6 | |
| Level 7 | |
| Level 8 | |

Chapter 5: Kirin Tor Citadel

| | |
| --- | --- |
| Level 1 | |
| Level 2 | |
| Level 3 | |
| Level 4 | |
| Level 5 | |
| Level 6 | |
| Level 7 | |
| Level 8 | |
| Level 9 | |
| Level 10 | |
| Level 11 | |
| Level 12 | |

Tavern