Moragg
Moragg
"Prisoner 54293. Indefinite suspension. Avoid eye contact."
Moragg is one of the final bosses that can be encountered in chapter 2 of The Dalaran Heist.
| Normal | Heroic |
| --- | --- |
| | |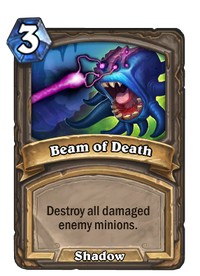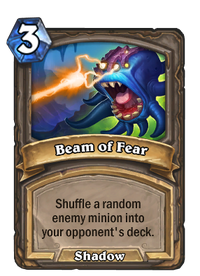 The below classes are listed purely for reference, and have no effect on the boss' use of the cards during the battle.
Please add any available information to this section.
Before match
Swampqueen Hagatha

Do not stare into the eyes of Moragg if you value your sanity.
Introduction
Moragg

Suffer beneath my gaze.
vs. Squeamlish

Squeamlish

Me Squeamlish, Druid of the Rat!

Moragg

I can see that.
Do you seek a new master, Observer? I can oblige.
Emote Response
Moragg

Up for a staring contest?
Hero Power
Moragg

1-2 damage

Come closer...
I spy with my large eyes...
You cannot hide!

3-5 damage

I see you.
Visions of suffering!
Your life flashes before my eyes.

6-8 damage

I see ALL!
WITNESS your life fade!

9+ damage

I see EVERYTHING!
<Roar>
Idle
Moragg

I see what move you should make...
I will observe this city's fall...
You'd better watch out...
Boss cards
Moragg

Demonbolt

You cannot cower behind your allies!

Other damage/removal spell

I will... destroy!

Demon for (7) and more

Destroy these fools!
Player's cards
Moragg

Eye for an Eye activates

No, no, not the eyes!

Patches the Pirate

Patches? What is that ridiculous hat?!

Entomb

You will not imprison me again!
Death
Moragg

(yell)
Defeat
Moragg

Only a fool would not see this outcome.
From Wowpedia:
Moragg is an observer boss located in the Violet Hold.
The Dalaran Heist
Heroes
Chapter 1: Dalaran Bank

| | |
| --- | --- |
| Level 1 | |
| Level 2 | |
| Level 3 | |
| Level 4 | |
| Level 5 | |
| Level 6 | |
| Level 7 | |
| Level 8 | |

Chapter 2: The Violet Hold

| | |
| --- | --- |
| Level 1 | |
| Level 2 | |
| Level 3 | |
| Level 4 | |
| Level 5 | |
| Level 6 | |
| Level 7 | |
| Level 8 | |

Chapter 3: Streets of Dalaran

| | |
| --- | --- |
| Level 1 | |
| Level 2 | |
| Level 3 | |
| Level 4 | |
| Level 5 | |
| Level 6 | |
| Level 7 | |
| Level 8 | |

Chapter 4: The Underbelly

| | |
| --- | --- |
| Level 1 | |
| Level 2 | |
| Level 3 | |
| Level 4 | |
| Level 5 | |
| Level 6 | |
| Level 7 | |
| Level 8 | |

Chapter 5: Kirin Tor Citadel

| | |
| --- | --- |
| Level 1 | |
| Level 2 | |
| Level 3 | |
| Level 4 | |
| Level 5 | |
| Level 6 | |
| Level 7 | |
| Level 8 | |
| Level 9 | |
| Level 10 | |
| Level 11 | |
| Level 12 | |

Tavern