Mogrin the Injured
Mogrin the Injured
At the start of your turn, this minion loses 2 health. Can't attack.
Mogrin the Injured is a boss minion card that appears in the fight with Ferocious Quilboar in Book of Heroes.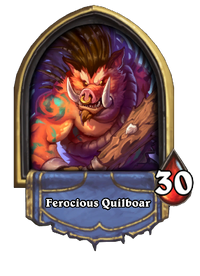 From Wowpedia:
Mogrin was an orc warrior and faithful messenger for the Horde, known to Warchief Thrall by name. He was entrusted with a crucial report to be delivered to Thrall in Orgrimmar, but was ambushed by quilboars and received a fatal wound, his stomach split open. He found himself being aided by Rexxar, one of the Mok'Nathal, and the surviving Quilboar fled. Mogrin was devastated as he had failed his mission and would die without honor. Rexxar, however, volunteered to deliver the message for him, for the sake of honor. Mogrin was grateful but was unable to tell Rexxar any additional information before dying in the wilds of Durotar.