Mini-Rag
Mini-Rag
Can't attack. Immune.
At the end of each turn, burn your enemies randomly.
Mini-Rag is a Tavern Brawl minion, for use in specific Tavern Brawls.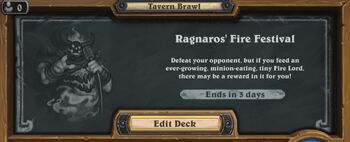 Mini-Rag's attack increases with each minion killed. He will switch sides after attacking, however, if board is full AFTER he finishes, he will stay and again attack same player next turn.
Mini-Rag increases its attack with an enchantment named Conflagrate, and this enchantment can be removed with Mass Dispel or negated with Sunkeeper Tarim or Eadric the Pure.
If only negated, it's effect will still cause it to increase attack when killing minions.