Menagerie Warden
Menagerie Warden
Battlecry: Choose a friendly Beast. Summon a copy of it.
Please? Can I keep him? I promise to clean his cage every day.
Menagerie Warden is a common druid minion card, from the One Night in Karazhan set.
Core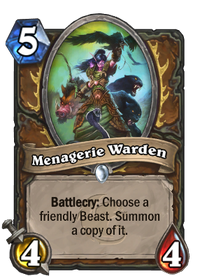 Two copies of regular Menagerie Warden are obtained by defeating the Curator, the first boss in One Night in Karazhan's third wing, The Menagerie.
As a Wild format card, both regular and golden versions of Menagerie Warden can also be crafted for the following amounts:
| Card | Crafting cost | Disenchanting |
| --- | --- | --- |
| Menagerie Warden | 40 | 5 |
| Golden Menagerie Warden | 400 | 50 |
Two copies of regular Menagerie Warden (Core) are obtained for raising druid to level ?.
Two copies of golden Menagerie Warden (Core) are obtained for winning 50 games as druid.
Menagerie Warden (Core) is uncraftable and cannot be crafted or disenchanted.
Menagerie Warden's value comes from her Battlecry, which should be used to copy a powerful or especially useful Beast. This card fits best in a Beast Druid deck, containing a range of high-value Beasts.
It is useful to use the effect on a 5-mana Stranglethorn Tiger, since the Stranglethorn cannot easily be damaged or destroyed on Turn 5, and if you play the warden before attacking with the Stranglethorn, the copy will be Stealthed too.
Summon

Join the pack.


Attack

Sic 'em!

Judging by this card's title, this night elf serves as a warden in Karazhan's Menagerie. She is unique to Hearthstone.