Mecharoo (Battlegrounds)
Mecharoo
Deathrattle: Summon a 1/1 Jo-E Bot.
Mecharoo was a Tier 1 minion in the Battlegrounds game mode.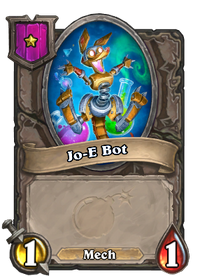 One of the weaker Tier 1 minions, Mecharoo's primary purpose was tying with token-spawning minions and minions with 2 Health during the first few turns of the game, such as Murloc Tidehunter, Alleycat, Scallywag, and Deck Swabbie. As it had little use past that, Mecharoo shall generally be sold off quickly but it could be useful in late game to trigger Deflect-o-Bot or redirect the attacks of enemy Zapp Slywick in a pinch.