Mark of the Loa
Mark of the Loa
Choose One - Give a minion +2/+4 and Taunt; or Summon two 3/2 Raptors.
Ah, yes. Mark. The mightiest Loa.
Mark of the Loa is a rare druid spell card, from the Rastakhan's Rumble set.
Mark of the Loa can be obtained through Rastakhan's Rumble card packs, or through crafting.
| Card | Crafting cost | Disenchanting |
| --- | --- | --- |
| Mark of the Loa | 100 | 20 |
| Golden Mark of the Loa | 800 | 100 |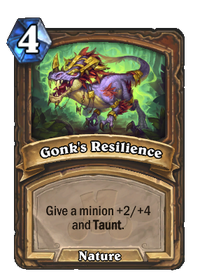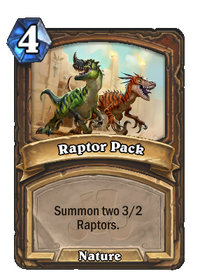 Summoned minions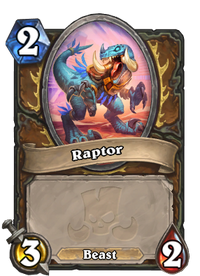 Mark of the Loa is as flexible as most Choose One cards, and neither choice is understatted.
Normally, if there is a minion on both sides, it is better to choose "Gonk's Resilience", making a favorable trade or building up an effective Taunt minion.
"Raptor Pack" is more likely a preparation for buffs like Power of the Wild and Fungalmancer, but vulnerable to AoE damage. Usually chosen with your side of the board empty.