Mark of Nature
Mark of Nature
Choose One - Give a minion +4 Attack; or +4 Health and Taunt.
Druids call it the "Mark of Nature." Everyone else calls it "needing a bath."
Mark of Nature is a common druid spell card, from the Classic set.
Mark of Nature can be obtained through Classic card packs, through crafting, or as an Arena reward.
| Card | Crafting cost | Disenchanting |
| --- | --- | --- |
| Mark of Nature | 40 | 5 |
| Golden Mark of Nature | 400 | 50 |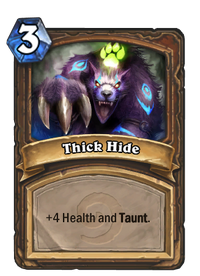 Whilst Mark of Nature costs one point of mana more than Mark of the Wild, it lets you choose between whether you want to be defensive or offensive. This card is mostly used to make one of your rather weak minions more durable, or to buff up the Attack one of your charge drops, eg. Druid of the Claw, Argent Commander, or even Leeroy Jenkins.
Patch 14.0.0.29933 (2019-04-04): A number of "Choose One" cards have had unique art added for each possible option.