Maim Blackhand
Maim Blackhand
Battlecry: If you're holding a Dragon, gain +1 Attack and Taunt.
Maim Blackhand is a boss minion card, used by Warchief Blackhand in Book of Heroes.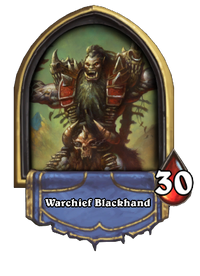 From Wowpedia:
Maim Blackhand was the son of the former Warchief Blackhand the Destroyer and the brother of Dal'rend and Griselda. Along with Dal'rend, Maim served as the co-leader of the Black Tooth Grin clan until his death in Blackrock Mountain.