Lava Burst
Lava Burst
Deal 5 damage. Overload: (2)
It's like an ocean of liquid magma in your mouth!
Lava Burst is a rare shaman spell card, from the Classic set.
Lava Burst can be obtained through Classic card packs, through crafting, or as an Arena reward. Regular Lava Burst can also be obtained through the Highest Rank Bonus chest at the end of a Ranked season, or as a first-time reward for first time reaching Silver 10 or Gold 10 in Ranked mode.
| Card | Crafting cost | Disenchanting |
| --- | --- | --- |
| Lava Burst | 100 | 20 |
| Golden Lava Burst | 800 | 100 |
Lava burst is a staple of many strong shaman decks, affording high damage for relatively low cost. It is commonly used as a powerful removal option, or better yet a strong finisher.
From Wowpedia:
Lava Burst is an Elemental shaman's highest hitting spell, due to it having a 100% crit chance as well as dealing 50% more damage if the Flame Shock DoT is on the enemy. It is on a 8 sec cooldown, thus causing shaman DPS rotations to be governed by cooldowns and priorities.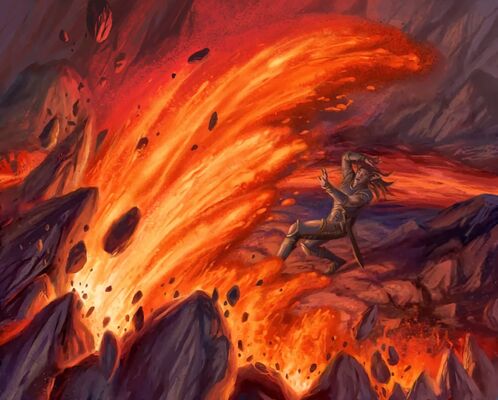 Alpha patch (unknown date, pre-May 2013): Text changed from "Deal 5 damage. Recall (2)" to "Deal 5 damage. Overload (2)"