Lady Darkscale
Lady Darkscale
The vindictive naga often cause trouble on these shorelines...
Lady Darkscale is the fifth boss in Hunter's Book of Heroes adventure.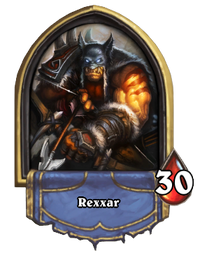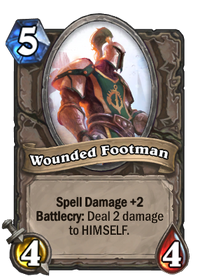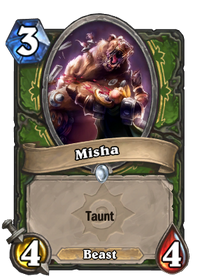 The below classes are listed purely for reference, and have no effect on the boss' use of the cards during the battle.
Please add any available information to this section.
Before match
Rexxar (present)

The new Warchief had many problems. He'd made a pact with a human, Jaina, yet still our camps were raided.
Jaina claimed she had not given that order. Together, we went to find our true enemy.
Introduction
Rexxar

The naga destroyed our camp!
We have to clear them out. Then we can discover what really happened here.

Lady Darkscale

The seasss are ours!
Emote Response
Lady Darkscale

Surface dwellers are so strange.
Hero Power
Lady Darkscale

Athero bathre'las!
Face my storm!
For Nazjatar!
Idle
Lady Darkscale

A human and a half-orc work together? What nonsense.
I'll show YOU who's washed up.
Your petty disagreements mean nothing to me.
Turn 1
Jaina Proudmoore

They came out of nowhere! (Mirror Image is cast)
Turn 3
Jaina Proudmoore

I hope you trust me. (Mirror Image is cast)

Rexxar

Thrall does. That should be enough.
Turn 4
Jaina Proudmoore

Our future peace hinges on what we find here. It worries me. (Freezing Potion is cast)

Rexxar

Peace is always fragile.
Turn 7
Jaina Proudmoore

We aren't so different. I think our people want the same things. (Freezing Potion is cast)

Rexxar

That is why we clash.
Turn 9
Lady Darkscale

Ssstand down!
Turn 10
Lady Darkscale

We will reclaim our landsss.
Wounded Footman

Mistress Jaina? Is that you?

Jaina Proudmoore

I recognize that footman… I think I know what happened here.

Rexxar

What do you mean?

Jaina Proudmoore

I'll explain later.
Death
Rexxar

The naga are gone. But who were the humans attacking us?

Daelin Proudmoore

Ah, Jaina. I've found you at last!

Jaina Proudmoore

Father. I knew this was your doing. You have to understand - the Horde is no longer our enemy!

Daelin Proudmoore

So naive, my dear. Step aside, an extermination is in order.

Jaina Proudmoore

Rexxar, run!
Defeat
Lady Darkscale

We controlled the world once... and we shall again.
From Wowpedia:
Lady Darkscale was a naga sea witch that attacked the naval base of Kul Tiras located in Coastal Base. She was guarded by Scilla Murkshadow. Rexxar, Chen Stormstout, Rokhan, and Jaina Proudmoore destroyed her and her naga to find human survivors.