Jr. Excavator
Jr. Excavator
Battlecry: Draw 3 cards.
Any minions you draw
cost (2) less.
A good explorer's got to start somewhere - and this one is starting with digging. Lots of digging.
Jr. Excavator is an uncollectible hunter minion card used in Tombs of Terror. It is one of Brann Bronzebeard's signature treasures.
Jr. Excavator is unlocked by defeating a Plague Lord. If the player defeats the first four Plague Lords with Brann Bronzebeard, it will be upgraded to Sr. Excavator.
For more information, see Tombs of Terror.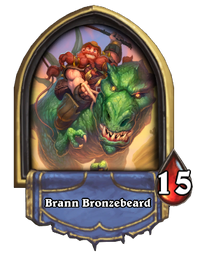 Summon

I fink I found somefing.


Attack

Hands off.