Journey to the Catacombs
Journey to the Catacombs
Quest: 7 minions are played by ANY player.
Reward: Master Chests for all!
Journey to the Catacombs is a Tavern Brawl spell, for use in specific Tavern Brawls.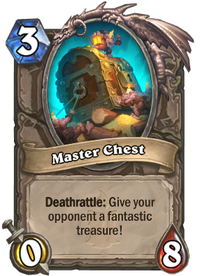 Minions played by your opponent count towards the quest's completion, so don't simply flood the board. Play minions carefully until you are certain you will get the Master Chest with the highest amount of health.
Destroying the Master Chest should be a priority, as you will receive an extremely powerful card.