Hyena Alpha
Hyena Alpha
Battlecry: If you control a Secret, summon two 2/2 Hyenas.
Everything the sun touches is ours—so long as it's already dead.
Hyena Alpha is a rare hunter minion card, from the Saviors of Uldum set.
Hyena Alpha can be obtained through Saviors of Uldum card packs, through crafting, or as an Arena reward. Regular Hyena Alpha can also be obtained through the Highest Rank Bonus chest at the end of a Ranked season.
| Card | Crafting cost | Disenchanting |
| --- | --- | --- |
| Hyena Alpha | 100 | 20 |
| Golden Hyena Alpha | 800 | 100 |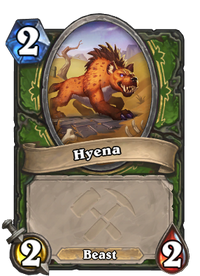 A powerful card for any type of midrange Hunter decks. As long as it activates its Battlecry, it generates 7/7 worth of stats for a much lower cost. Playing Secrets that are more difficult to activate like Rat Trap will help guarantee the Battlecry going off on curve.
From Wowpedia:
Hyenas are large carnivorous beasts found in the most barren areas of Kalimdor. They are most dangerous when traveling in packs. Rotting corpses attract hyenas and from feeding on the dead they often have an ability to inflict dangerous diseases on those who fight them. Hyenas possess tremendous strength in their jowls.