Horseman Uther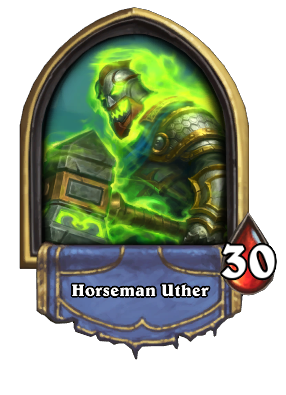 For other appearances of Uther Lightbringer, see Uther Lightbringer (disambiguation).
Horseman Uther is an alternate hero for the

Paladin class in Hearthstone: Heroes of Warcraft.
Horseman Uther is unavailable to new players. It's unknown if he will become available again.
Horseman Uther was available for purchase as part of the Horseman Uther Bundle during the Hallow's End event, starting September 29, 2020 until October 13.[1]
This portrait depicts Uther as the Headless Horseman.
When viewed in the Collection, Horseman Uther has the following flavor text:
On Hallow's End, you'll see new sides! Not a holy knight, but a cursed horseman rides!
Horseman Uther uses the same emotes as Uther Lightbringer, but with a filter applied to add reverb and make them deeper. For a list, see Uther Lightbringer#Emotes.