High Priest Thekal (boss)
High Priest Thekal
Floats like a feather. Stings like a troll punching your face.
For the minion card of the same name, see High Priest Thekal
High Priest Thekal is a boss that can be encountered during the Rumble Run, if the player has not choosen one of the Paladin Shrines.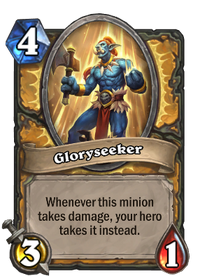 Introduction
High Priest Thekal

You face de king of de ring!
Emote Response
High Priest Thekal

Greetings - I ain't here to pontificate.
Well Played - Dat's why I'm de champ.
Thanks - Ya'welcome.
Threaten - Lean in closer. Say dat again.
Oops - We can't all be me.
Wow - I know, I know. I'm just dat impressive.
Sorry - Bettah be.
Shrine is destroyed
High Priest Thekal

Dat's a low blow...
Just takin' a breather.
I ain't throwin' in de towel yet.
Shrine is restored
High Priest Thekal

A second wind!
Back an' betta dan ever!
Time ta give 'em de ol' one-two.
Destroys a shrine of Player
High Priest Thekal

A decisive strike!
First ya shrine crumble. Next, you.
K.O.!
Your "beast within" is no more dan a cub. (vs. Druid)
Your shrines fall just like your empire. (vs. Hunter)
What's a flame without fuel? (vs. Mage)
Even de spirits be feelin' dat blow! (vs. Priest)
Pirates be known for their hook. Mine's betta. (vs. Rogue)
Ya gonna croak, frog-man! (vs. Shaman)
Getcher wings outta my ring! (vs. Warlock)
I be shreddin' metal. (vs. Warrior)
Effect of Shrines

Shirvallah's Protection

Shirvallah protects!
Stand strong!
We cannot be beat!

Shirvallah's Vengeance

Counter-punch!
Jab!
Strike back!
Vengeance!

Shirvallah's Grace

Oh, she got de golden glow!
Shine bright, Shirvallah!
Together we are strong!
Boss cards

Minion with Rush

De speed of a tiger.
Feel de rush!

Flash of Light

In a flash!

Time Out!

Can't touch this.
Try me.

Spirit of the Tiger

Here come de tiger.

A New Challenger...

A new challenger appears!
A worthy challenger at last!
Who dares enter de ring?

Shirvallah, the Tiger

Shine on bruddahs! It's tiger-time!
Death
High Priest Thekal

De... clawed...
Defeat
High Priest Thekal

It wasn't a fair fight, mon. You had ta fight me.
| Type | Emote |
| --- | --- |
| Introduction | You face de king of de ring! |
| Greetings | Nice ta meet ya, time ta beat ya! |
| Well Played | Nice moves. |
| Thanks | De crowd appreiciates dat. |
| Threaten | You leavin' 'ere with new scars. |
| Oops | Dat ain't right. |
| Wow | Not bad! Not bad. |
| Sorry | Eh... sorry. |
| Concede | Tch, I'll be back for round two! |
From Wowpedia:
High Priest Thekal was the High Priest of the Primal God Shirvallah, the god tiger. In order to quell Hakkar the Soulflayer, the trolls of the land banded together and sent a contingent of High Priests into the ancient city of Zul'Gurub. Each priest was a powerful champion of the Primal Gods, but despite their best efforts they fell under the sway of Hakkar. Now the champions and their Primal God aspects feed the awesome power of the Soulflayer. Any adventurers brave enough to venture into the foreboding ruins must overcome the High Priests if they are to have any hope of confronting the mighty blood god.
In Hearthstone lore, Thekal serves as the champion of Shirvallah's Tigers, the paladin team in Rastakhan's Rumble. The last time the Rumble was held, Thekal secured victory for Shirvallah's Tigers by clinching the final against Gral's Sharks.[1]
Shirvallah's Vengeance - Auto-win with Hir'eek's Hunger if you play a damage card (Flame Imp, Kobold Librarian, etc.) on turn one.