Hench-Clan Hogsteed
Hench-Clan Hogsteed
Rush
Deathrattle: Summon a 1/1 Murloc.
This is CLEARLY their first rodeo.
Hench-Clan Hogsteed is a common neutral minion card, from the Rise of Shadows set.
Hench-Clan Hogsteed can be obtained through Rise of Shadows card packs, through crafting, or as an Arena reward.
| Card | Crafting cost | Disenchanting |
| --- | --- | --- |
| Hench-Clan Hogsteed | 40 | 5 |
| Golden Hench-Clan Hogsteed | 400 | 50 |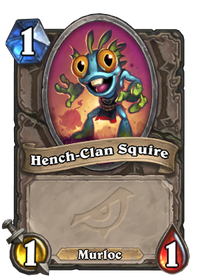 Hench-Clan Hogsteed is a good source of small removal, comparable to Spring Rocket at one mana lower with 1 less attack or a Bluegill Warrior that leaves behind a 1/1. It can also be played on the board as a 2/1 that summons a 1/1 on death, which is decent value if you're already ahead.
Uniquely, it has both Murloc and Beast synergy. This lets it work with Midrange Hunter and Murloc Shaman. It also fits well with Menagerie Magician and Zoobot.