Handmaiden Vashj
The subject of this article is part of the
Ashes of Outland's single-player content.
Handmaiden Vashj
Spell Damage +1
Your spells cost (1) less.
Handmaiden Vashj is a boss minion card summoned by Queen Azshara in the Demon Hunter Prologue.
For more information, see Mannoroth.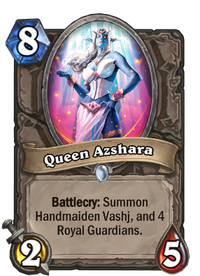 Summon

The queen's favor is easily lost.
Attack

Such bad manners!
This card represents Lady Vashj before her transformation from a night elf into a naga.
For more details, see Lady Vashj.