Hack the System
Hack the System
Quest: Attack 5 times with your hero.
Reward: Anraphet's Core.
Anything can be hacked, if you're holding an axe.
Hack the System is a legendary warrior spell card, from the Saviors of Uldum set.
Hack the System can be obtained through Saviors of Uldum card packs, through crafting, or as an Arena reward.
| Card | Crafting cost | Disenchanting |
| --- | --- | --- |
| Hack the System | 1600 | 400 |
| Golden Hack the System | 3200 | 1600 |
Summoned minions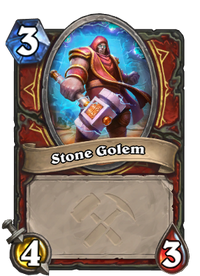 Completing this Quest only requires the hero to attack, which Warriors can only do using weapons and Heroic Strike. You can start the Quest earlier by equipping a cheaper weapon, such as a Heavy Axe from Upgrade! and Woodcutter's Axe, although mid-costing cards like Livewire Lance and Arathi Weaponsmith are valuable for maintaining tempo. Later, heavier weapons that last multiple turns like Sul'thraze and Gorehowl will aid in completing the quest if you haven't done so yet. Wild also has some excellent cards that will complete the quest more effectively, such as N'Zoth's First Mate, Blackwater Pirate, and Fool's Bane, plus some riskier options like Cursed Blade and Tentacles for Arms.
Hack the System requires a midrange type of deck to be built, one that allows the user to hit face as often as possible for both pushing damage and mitigating self-damage. Hack the System can also be combined with a Bomb Warrior deck, although it's difficult to optimize for both quest completion and Bomb generation.
Once Hack the System is complete, your Hero Power will now summon minions worth well above their cost for 2 mana, but at the cost of losing the Warrior's innate ability to gain Armor. Its main quality is being able to refresh when the hero attacks, letting you summon an additional Stone Golem on your turn. Fool's Bane and Sul'thraze can be alternatively used after gaining Anraphet's Core in order to summon a maximum of four Stone Golems in a single turn. Even summoning two Stone Golems per turn will generate a large amount of tempo over time to close out the game. The loss of easily accessible Armor gain can be a problem, so other sources of Armor like Armored Goon helps.
Anraphet's Core is unique to Hearthstone but apparently originates from Anraphet, a titanic construct encountered as a boss in the Halls of Origination dungeon.
From the World of Warcraft Adventure Guide

The Anraphet maintenance unit was created to man the inner workings of the Halls of Origination. In the event that the facility is contaminated by foreign entities, Anraphet will access programs designed to annihilate the intruders by any means necessary.