Glowfly Swarm
Glowfly Swarm
Summon a 2/2 Glowfly for each spell in your hand.
Glowflies are distant relations to spelling bees.
Glowfly Swarm is an epic druid spell card, from the Ashes of Outland set.
Glowfly Swarm can be obtained through Ashes of Outland card packs, through crafting, or as an Arena reward. Regular Glowfly Swarm can also be obtained through the Highest Rank Bonus chest at the end of a Ranked season.
| Card | Crafting cost | Disenchanting |
| --- | --- | --- |
| Glowfly Swarm | 400 | 100 |
| Golden Glowfly Swarm | 1600 | 400 |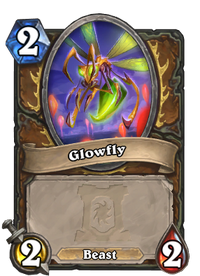 Glowfly Swarm is similar to Living Mana but instead of Mana Crystals its based on spells in your hand. This is a essential in Spell Druid decks with a deck filled with majority of Spells. If played on curve, it will be super efficient in terms of stats for its 5 mana providing up to 14/14 worth of stats in terms. If left unanswered, Power of the Wild, Savage Roar, Blessing of the Ancients, Gift of the Wild, and Mark of the Lotus turns a token based minions into very powerful minions capable of destroying the enemy hero quickly.
Soul of the Forest provides your tokens an additional token with the same stats essentially providing two lives of each token.