Glow-Tron 2000
Glow-Tron 2000
ENGAGE PUZZLE PROTOCOL. BEGIN BANTER. COMMENCE BAD JOKE.
Glow-Tron 2000 is the third boss of the Survival lab in the Puzzle Lab.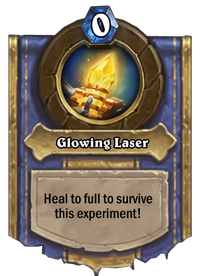 Before match
Crystalsmith Kangor

I see you survived Flark's lab. Come. There is REAL work to be done.
Introduction
Glow-Tron 2000

Initialize: Testing Protocol 3C. Systems Booting...
Emote Response
Glow-Tron 2000

Self destruct sequence engaged. Ha. Ha. Just kidding.
That is a retinal scan device. Not voice recognition.
Voice recognition is disabled on this device.
Idle
Glow-Tron 2000

Analyzing scenario...
Charging laser...
Computing...
Converting to Solar Energy...
Interpreting...
Scanning for solutions...
Restart
Glow-Tron 2000

Command: Undo Resolving.
Dumping Error Logs...
Error: 3BT2. Reverting to backup.
Fault Discovered. Repairing...
Reboot Initialized.
Restoring Snapshot.
Unplugging and Replugging...
Puzzle 2
Glow-Tron 2000

Recharging laser. Please stand still.
Puzzle 4
Glow-Tron 2000

Laser online. Holding...
Puzzle 6
Glow-Tron 2000

Diamond Clarity: 99.932% Flawless.
Return after leaving
Glow-Tron 2000

Resuming test scenario.
Completion
Glow-Tron 2000

Target remains. Lab access granted.