Giantfin (Battlegrounds)
For The League of Explorers adventure boss, see Giantfin.
For the minion versions of this card, see Giantfin (Normal boss card) and Giantfin (Heroic boss card).
Giantfin is a retired hero that the player could pick in the Battlegrounds game mode.
For more information, see Battlegrounds.
Hero Power
[
edit
]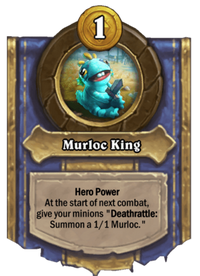 Strategy
[
edit
]
Giant Fin was best used in strategies built around Murloc Tidecaller and Old Murkeye as the 1/1 murlocs summoned would permanently buff the former's attack and keep the latter's attack high throughout combat.
Since Murlocs typically lack deathrattles besides the rare plants from Gentle Megasaur, it gave your murloc board a source of tokens to divert attacks with.
However, this hero power was straight up worthless in other strategies such as beast builds built around Scavenging Hyena and mech builds built around Junkbot, as the 1/1 murlocs would clog up your board preventing other summoned tokens from being summoned.
Gallery
[
edit
]
Patch changes
[
edit
]
Server-side patch (2019-11-19) Removed from the pool of possible heroes.
Patch 15.6.0.35747 (2019-11-05): Added.
Battlegrounds
Heroes
Cards

Tier 1

Tier 2

Tier 3

Tier 4

Tier 5

Tier 6

Retired

Heroes

Minions