As part of the Unified Community Platform project, this wiki and 38 others will be migrated to the new platform in the next few weeks. Minimal changes are expected as part of this migration. Read more here.
Ghoul
Ghoul is an uncollectible minion card, generated by Arrogant Crusader, Necrotic Geist, Val'kyr Soulclaimer and Vryghoul.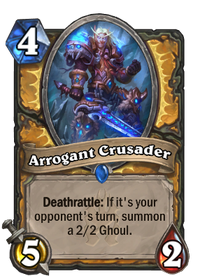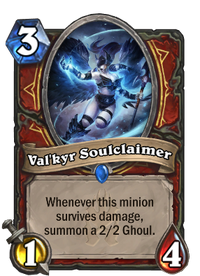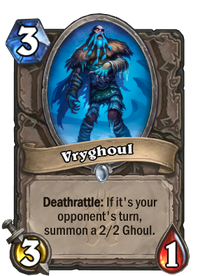 From Wowpedia:
Ghouls act as the shock troops for the Scourge. These lumbering, rotting corpses were once innocent townsfolk who have made the final transition into true undeath. Ghouls have great stamina and revel in combat with living beings. Ghouls are ravenous cannibals who can replenish their health by devouring the flesh of fallen warriors, friend and foe alike.
Ghouls are found in several places throughout Azeroth, primarily the Eastern Kingdoms and Northrend. Most notable are those who terrorize the Plaguelands as the front lines of the Scourge. Heavy concentrations can also be found in Eversong Forest and Ghostlands. Mindless ghouls can also be found in Silverpine Forest and Duskwood.