George and Karl (Galakrond's Awakening)
For the boss encounter in Dungeon Run, see George and Karl.
George and Karl is a boss encounter in Galakrond's Awakening adventure. It is the first encounter of Chapter 4 of E.V.I.L. campaign: Showdown in Dalaran.
The boss for this encounter is George and Karl, while the hero the player controls in Story mode is Rakanishu.
George
| Story | Heroic |
| --- | --- |
| | |
Karl
Story and Heroic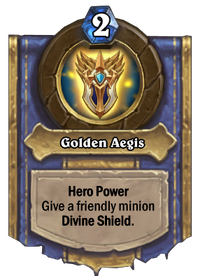 Normal only
George and Karl
The below classes are listed purely for reference, and have no effect on the boss' use of the cards during the battle.
Destroying all carts will transform Rakanishu into Rakanishu, Rekindled with a new Hero Power:
Normal
Heroic
Basic Strategy (Normal Mode)
Tips (Normal Mode)
Before encounter
Rafaam

Burn it down, Rakanishu! If we can't have this city… NO ONE CAN!
Introduction
Rakanishu

By fire... be purged!

George

We're going to stop you, you overgrown candle!

Karl

Yeah! We're gonna... put you out!
Turn 2
Rafaam

Burn everything! Oh, except the drapes. I just had them steamed.
Turn 5
Rakanishu

You two make a TERRIBLE team!
Rakanishu

Let's set these ablaze!
Things are REALLY heating up!
Nice and FLAMMABLE!

George

I don't think anyone is going to miss those carts.
I know it's wrong but, seeing those carts burn is... cathartic.

Karl

Uhhh George? There's a lot of fire...
Those poor, poor fruits! You fiend!
Only one cart remains
Rakanishu

Dalaran... it's nice and toasty this time of year!
Rakanishu transforms into Rakanishu, Rekindled
Rakanishu

Fire... Fire! FIRE!!!
Rakanishu, Rekindled

Burn it! BURN IT ALL!
FLAMES WILL CONSUME!!
Wahaha! Hahahaha!
Boss at 10 health or less
George

Karl... I think we're gonna lose!

Karl

Then we lose together, George!
Unused
Rakanishu

You two STILL make a terrible team!
Introduction in Heroic mode
George

We're back and better than ever!

Karl

Yeah! A dream team!
Hero Power
George

This oughta help put you down...
A mighty weapon... for revenge!

Karl

The Light will protect me!
Time to play defensively!
Emote Response
George

I'm not gonna listen to your lies anymore, E.V.I.L.!

Karl

Get outta here, you big bully!
Idle
George

All this chaos, and for what?
How did I get wrapped up in this?
I miss the old days. They were simpler.

Karl

I'm so glad George and I could fight together again.
I missed our high fives!
George didn't deserve any of this.
Attacking
George

Fall, demon!

Karl

Stand down!
George

We can do this!...

Karl

Oh boy! (first use)

George

How are we even going to hit this big guy in the face?

If Karl did a front flip, and then I gave him a boost...
Karl

Do I get to control the deck?
I hope we can win!
So glad George decided to come with me!
...together!
Sir Finley of the Sands / Elise the Enlightened / Reno the Relicologist / Dinotamer Brann
Karl

Wait a minute.. Didn't we meet in Uldum?!
George's Death
George

Sorry... Karl...

Karl (if he lives)

George! No! I will... avenge you!
Karl's Death
Karl

I let ya down again…

George (if he lives)

No! I won't lose him again!
All the emotes are the same as his hero counterpart in Dalaran Heist.