Garden Gnome
Garden Gnome
Battlecry: If you're holding a spell that costs (5) or more, summon two 2/2 Treants.
"Greetings, my little shrubs... It's whittlin' time."
Garden Gnome is a rare druid minion card, from the Saviors of Uldum set.
Garden Gnome can be obtained through Saviors of Uldum card packs, through crafting, or as an Arena reward. Regular Garden Gnome can also be obtained through the Highest Rank Bonus chest at the end of a Ranked season.
| Card | Crafting cost | Disenchanting |
| --- | --- | --- |
| Garden Gnome | 100 | 20 |
| Golden Garden Gnome | 800 | 100 |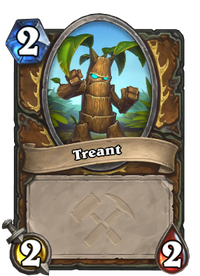 While this card gives great minion value for its cost, summoning 6/7 worth of stats for 4 mana, its requirement can be surprisingly tricky to fulfill. Since players will generally mulligan expensive cards, there's a chance you won't draw the high-cost spells you need to activate this card's effect on curve. There's also a general shortage of good, all-purpose 5+ cost Druid spells, with many of them being situational, reducing the number of 5+ cost spells per deck on average.
The cards used to activate Garden Gnome largely depend on the deck. Combo decks can use Nourish and Overflow, Untapped Potential decks can use Starfall and Hidden Oasis, and Treant decks can use Force of Nature, The Forest's Aid, and Aeroponics, the last one being a strong synergy pick.
Summon

Such wondrous flora!


Attack

I'll trim you!