As part of the Unified Community Platform project, this wiki and 38 others will be migrated to the new platform, with migrations beginning September 23rd at 7am CDT. Minimal changes are expected as part of this migration. Read more here.
Galakrond
For other representations of Galakrond, see Galakrond (disambiguation).
Galakrond is a boss encounter in Galakrond's Awakening adventure. It is the third and final encounter of Chapter 4 of E.V.I.L. campaign: Showdown in Dalaran.
The boss for this encounter is Galakrond, while the hero the player controls in Story mode is Rafaam, Prime Evil.
Story and Heroic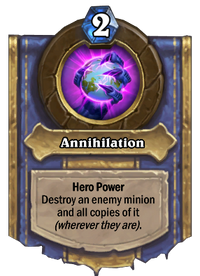 The below classes are listed purely for reference, and have no effect on the boss' use of the cards during the battle.
Galakrond's Invoke effect summons a 8/8 Reanimated Dragon with Taunt.
From Hero Power
From deck
Please add any available information to this section.
In Story, this is just a matter of stabilizing well enough until you can consistently get Treasures. If you do, choose the appropriate Treasure, like Board clears or minion buffs. Don't choose Dr. Boom's Boombox unless well ahead, as Annihilation will just destroy them all and Galakrond can usually shrug off the ensuing damage. Stone Fox Statue can get you free strong minions too, so you can take it if you think there is a decent probability of getting one.
If you have nothing in particular to do, like when the board is empty but no minion summoning choices are offered, you can choose Untold Splendor to save it for later.
In Heroic mode, Chaos Gazer can do pretty well as Galakrond will usually discard that card, or lose tempo. Anti-dragon tech cards are strongly recommended as Galakrond uses a lot of dragons.
Before encounter
Rafaam

Oh, Galakrond! It is just you and me now. *Sniff* I know what I must do.
Introduction
Rafaam, Prime Evil

Where the others have failed, I, Rafaam, will defeat you.
Turn 2
Rafaam, Prime Evil

You are too dangerous, Galakrond. I, Rafaam, must destroy you!
Turn 3
Galakrond

I am the beginning. I am the ur-dragon. You are nothing.

Rafaam, Prime Evil

I am RAFAAM!
Turn 4
Rafaam, Prime Evil

Oh, Galakrond! I cry. Or I would, if I had liquids in my body.
Galakrond at 100 health left
Rafaam, Prime Evil

It hurts me to hurt you! Mostly it hurts you, though.
Player's Hero Power
Rafaam, Prime Evil

It is a good thing I spent all year stealing these things!
It is easy to solo a raid boss if you have the right gear.
I remember stealing these! Good times.
Ahhh, just what I was looking for.
It is good to be an arch-thief!
Introduction
I am unbreakable! I am unstoppable!
Hero Power
Annihilate.
To oblivion.
None will remain.
Emote Response
Your role in this is over, ethereal.
Your screams delight me. (Heroic mode)
Idle
I am the Progenitor. The beginning. The one.
My rebirth begins the cycle of the world anew.
You, too are the beginning. The "Appetizer." The "Snack."
Turn 3
Galakrond

I am the beginning. I am the ur-dragon. You are nothing.
Attacking
Hrruuuuaah!
Your attempts at victory will be in vain!
Death
(yells)
| Type | Emote |
| --- | --- |
| Thanks | You will always be my greatest creation. |
| Well Played | Together we were magnificent! |
| Greetings | Hello, Galakrond! And now… goodbye. |
| Wow | What a pair we make, Galakrond! |
| Oops | We have both made mistakes, my friend. |
| Threaten | Goodbye, you big beautiful scion of destruction. |
| Attack | Destroy! |
| Concede | Back to the scheming-board! |
| Death | But… but… |
| Thinking [1] | Hmmm… |
| Thinking [2] | Must… destroy… |
| Thinking [3] | Chaos…? Yes, chaos… |
| Running out of time | I must make my move! |
| Almost out of cards | I am low on cards. |
| Out of cards | That's it! I am out! |
| Error: Generic | I cannot do that. |
The soundtrack used in this boss encounter is called Rafaam Boss, to which can listened here.