As part of the Unified Community Platform project, this wiki and 38 others will be migrated to the new platform, with migrations beginning September 23rd at 7am CDT. Minimal changes are expected as part of this migration. Read more here.
Frost Widow
Frost Widow is an uncollectible minion card, summoned by the druid card Webweave and the choice card Spider Plague, from the Knights of the Frozen Throne set.
For more information, see Webweave and Spider Plague.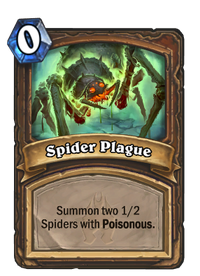 Patch 9.0.0.20457 (2017-08-08): Added.
13-10-2018, Frost Widows's that has been returned to hand, now only costs 1 mana to replay.