For a hero of the Horde, all roads lead to the Crossroads. You have come for adventure, but the Barrens wants to break you. Your axe... must be sharp! Your wits... must be keen! And your heart... must be mighty! Strength, and honor! This is who we are!
FOR THE HORDE!
Forged in the Barrens is Hearthstone's upcoming seventeenth expansion, featuring 135 new collectible cards. The expansion will be released in spring of 2021.
Set in the dusty savannah territory of the Barrens, a literal crossroads where tauren, troll, and orc adventurers gather to prove their worth. Mercenaries of old and newcomers alike train for an upcoming conflict with the Alliance. This set introduced the new keyword, Frenzy, which causes a minion to do something the first time it takes damage as long as it survived the attack. Additionally, it added six Spell schools to the game; Arcane, Fel, Fire, Frost, Holy, Nature, and Shadow. This applies to new spells but also old ones, opening up many new synergies. It also added Ranked Spells that become more powerful as you gain mana, and Mercenaries that will have their stories told throughout the year.
As the first expansion of 2021, the release of Forged in the Barrens ends the previous Standard year, the Year of the Phoenix, and begins the Year of the Gryphon.
How to get
Forged in the Barrens cards are available through the following options:
Pre-order
Prior to the expansion's release, players were able to purchase one or both of the following bundles:
Cards
This expansion features 135 collectible cards. Forged in the Barrens cards can be recognized with a special watermark (the Horde symbol) behind the card text, not found on other cards.
Neutral
Common (? cards)
Rare (? cards)
Epic (? cards)
Legendary (? cards)
Uncollectible
Class cards
Demon Hunter
Uncollectible
Druid
Uncollectible
Choice cards
Hunter
Uncollectible
Mage
Uncollectible
Paladin
Uncollectible
Priest
Uncollectible
Rogue
Uncollectible
Shaman
Uncollectible
Warlock
Uncollectible
Warrior
Uncollectible
Themes
Frenzy
The dangerous conditions of the Barrens can turn even the docile plainstrider into a deadly whirlwind of talon and feather. Minions with the Frenzy keyword will trigger powerful effects the first time they survive damage.[1]
Ranked Spells
Take your magical mastery from apprentice to artisan! With a new card for every class, Ranked Spells will level up as you reach 5 and 10 Mana Crystals.[1]
Mercenary Minions
There's no shortage of swords-for-hire within the Alliance and Horde. These class-specific Legendary minions are itching to show their worth in a scuffle and in the Tavern.[1]
Trailers
Lore
In World of Warcraft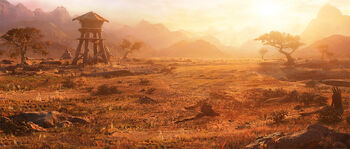 From Wowpedia:
In Hearthstone
History
Please add any available information to this section.
References
External links