Flames of Azzinoth
Flames of Azzinoth
Hero Power
Summon two 2/1 minions.
This article is about the tutorial Hero Power. For the playable card, see Flame of Azzinoth. For the boss card, see Flame of Azzinoth (tutorial).
Flames of Azzinoth is the Hero Power of the Illidan Stormrage boss faced by players in the tutorial. It summons two Flame of Azzinoth.
Illidan Stormrage uses this Hero Power to fill up his side of the board with minions. You must then kill them with an Arcane Explosion before he overwhelms you with them on his next turn.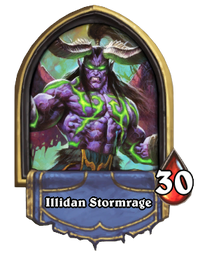 Alpha patch (unknown date, pre-May 2013): Name changed from "Shards of Azzinoth" to "Flames of Azzinoth".