Flame Geyser
Flame Geyser
Deal 2 damage. Add a 1/2 Elemental to your hand.
Oh, a wise geyser eh?
Flame Geyser is a common mage spell card, from the Journey to Un'Goro set.
Flame Geyser can be obtained through Journey to Un'Goro card packs, or through crafting.
| Card | Crafting cost | Disenchanting |
| --- | --- | --- |
| Flame Geyser | 40 | 5 |
| Golden Flame Geyser | 400 | 50 |
As well as being collected in decks, this card can also be generated by the following card.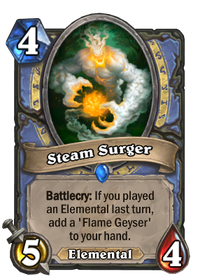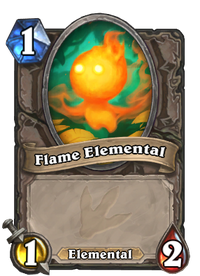 This card is a significantly weaker version of Frostbolt with the added benefit of giving you an Elemental to play. While it does 1 less damage and lacks a freezing effect, combined with the Flame Elemental it is equivalent to a Disciple of C'Thun with reversed stats. Despite this, its low numbers makes it only useful in decks looking for Elemental synergy.
In Elemental decks, this card is very valuable. The 1/2 can be held until an Elemental effect needs to be triggered, and the two damage is useful for removal.