Flame Burst
Flame Burst
Shoot 5 missiles at random enemies for 1 damage each.
Flame Burst is a boss card used by the Illidan Stormrage boss during the game's tutorial. It is not available to players.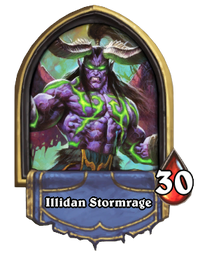 Flame Burst is a spell cast by Illidan Stormrage while he is in his demon form. He is fought as the final boss of the Black Temple. In World of Warcraft, this spell is AoE, damaging all players in the raid rather than randomly.
This card very similar to Cinderstorm, with the interaction with Spell Damage differing between the two.