Feral Gibberer
Feral Gibberer
After this minion attacks a hero, add a copy of it to your hand.
It's certainly not civilized gibbering.
Feral Gibberer is a rare neutral minion card, from the Kobolds & Catacombs set.
Feral Gibberer can be obtained through Kobolds & Catacombs card packs, or through crafting.
| Card | Crafting cost | Disenchanting |
| --- | --- | --- |
| Feral Gibberer | 100 | 20 |
| Golden Feral Gibberer | 800 | 100 |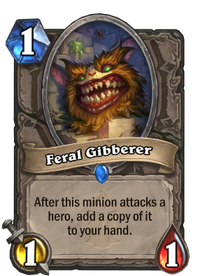 Please add any available information to this section.
This card is similar to Wretched Tiller as a 1-mana card designed to "go face" for optimal value, and so suffers from similar drawbacks: Absolutely terrible in the late game, but can get some decent value if your opponent doesn't have an answer on the turn it's played. Overall, this card is dependent on surviving one turn and not encountering any Taunts, which is highly unlikely. Aggressive decks prefer cards that guarantee value when they're played, such as Leper Gnome, Argent Squire and Acherus Veteran.
This card also works with The Caverns Below, The Marsh Queen and Steward of Darkshire.
A rather unique functionality with this card revolves around the discard mechanic. Accumulating several Feral Gibberers in your hand to be used as fodder for discard can prove quite useful in a deck with Lakkari Sacrifice. This can help prevent other more important cards from being discarded.
The Feral Gibberer is unique to Hearthstone and does not closely resemble any previously known creature from the Warcraft universe.
Game Designer Peter Whalen considers Feral Gibberer to be the cutest card in the Kobolds and Catacombs set.[1]
Feral Gibberer is an example of "top down" card design, as the developers had a specific fantasy they wanted to capture and then expressed that through the card design. The card was based around the idea of getting swarmed by multitudes of small, vicious creatures that multiply when they attack an enemy.[1]