Feeding Time
Feeding Time
Deal 3 damage to a minion. Summon three 1/1 Pterrordaxes.
True, they're only 1/1s, but they eat as much as most 4/4s!
Feeding Time is a rare warlock spell card, from the Journey to Un'Goro set.
Feeding Time can be obtained through Journey to Un'Goro card packs, or through crafting.
| Card | Crafting cost | Disenchanting |
| --- | --- | --- |
| Feeding Time | 100 | 20 |
| Golden Feeding Time | 800 | 100 |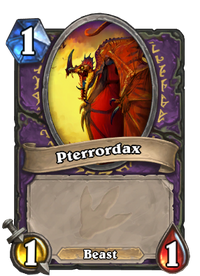 This spell has two steps:

First it deals damage, queuing and resolving all on-damage triggers;
Then, it summons three Pterrordaxes.
Feeding Time is similar to Imp-losion, but costs an additional mana and always deals 3 damage rather than a random amount. It also has no specific synergy with Spell Damage, since the Pterrordax are summoned as an individual part of the spell rather than tied to the damage dealt. This spell is extremely mana-inefficient on a pure damage level, so it's best to cast it when you can make use of the tokens it creates. It's good to pair with cards that benefit from summoning multiple minions like Darkshire Councilman.