Electra Stormsurge (boss)
Electra Stormsurge
Electra has gone category 5! Stop her, before she takes out the whole lab!
For the minion card of the same name, see Electra Stormsurge.
Electra Stormsurge is the final boss of the Lethal lab in the Puzzle Lab.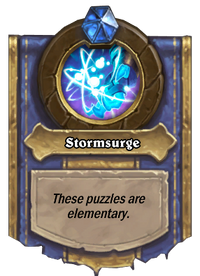 Before match
Myra Rotspring

Dilly dally much longer and I suspect there won't be an Electra to assist.
Introduction
Electra Stormsurge

This power... is overwhelming!!
Emote Response
Electra Stormsurge

Aw HAIL no!
It's not my heat. It's my humidity!
Why so cirrus? HA! Get it? Get it!?
Idle
Electra Stormsurge

Did someone say... THUNDERFURY!? No? Oh I - I thought someone did.
Has science gone too far?
I have become a vessel for RAW POWER!
If I played a mill deck... It would be... A WIND MILL! Ah ha! Gotta love it.
Stumped? I'm sure inspiration will... STRIKE! Hahaaaa!
Take your time. This will all blow over. BLOW OVER? Ha ha ha ha!
The storms will bend to my will!
Restart
Electra Stormsurge

Are you a HurriCAN? Or a HurriCAN'T!?
I must store this kinetic energy.
Lightning CAN strike twice. Or thrice. Don't hold back.
Shocking. SHOCKING! Ha ha!
That was striking. STRIKING! Oh ho!
This puzzle's a real twister. TWISTER! Whoo!
Puzzle 1
Electra Stormsurge

Can you neutralize... THIS!?
Puzzle 2
Electra Stormsurge

I am surging with power... act quickly!
Puzzle 3
Electra Stormsurge

I've absorbed too much of the Netherstorm, I'm overwhelmed!
Puzzle 4
Electra Stormsurge

I've overloaded the whole lab! Hehahaha! Somebody stop me!
Puzzle 5
Electra Stormsurge

Cloudy with a chance of... ME! Ah ha!
Puzzle 6
Electra Stormsurge

My rain of terror continues. RAIN! Get it? Ahhhh!
Volcano (unplayable; a sound there is in game files only)
Electra Stormsurge

No no NO! Weather falls down, it doesn't shoot up!
Return after leaving
Electra Stormsurge

Where have you been!? I need you!
Completion
Electra Stormsurge

Ahhhh... whew... thank you. I'm feeling a little better now.

Dr. Boom

Terrific! I don't have to fire you the way I fired the other applicants. From a cannon.