Duskhaven Hunter
Duskhaven Hunter
Stealth
Each turn this is in your hand, swap its Attack and Health.
After a short paws, she's back to herself again.
Duskhaven Hunter is a rare hunter minion card, from the The Witchwood set.
Duskhaven Hunter can be obtained through The Witchwood card packs, or through crafting.
| Card | Crafting cost | Disenchanting |
| --- | --- | --- |
| Duskhaven Hunter | 100 | 20 |
| Golden Duskhaven Hunter | 800 | 100 |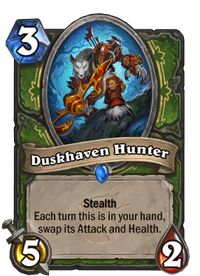 This card has two baselines: a 2/5 with Stealth and a Jungle Panther with one extra Attack. Its 2/5 form does not make good use out of its Stealth, and while the 5/2 form is superior, it's awkward trying to have the right form at the right time. If you want to play this on curve, it needs to be drawn on turn 2. Due to having to rely on draw luck to get a good statline, it's an underperforming card.
Summon

The beast is near.


Attack

Gotcha!

From Wowpedia:
Duskhaven is a small town located along the southwestern coast of Gilneas. Gwen Armstead is its mayor. It is the location that the evacuees from Gilneas City fled to as the worgen overran the city.
One day before the attack on Gilneas City, the town witnessed a murder of Starlight Slasher. With the Cataclysm already making the land unstable, the Forsaken's coastal bombardment during their invasion of Gilneas eventually caused the land beneath Duskhaven to crumble, and the town was swallowed by the sea.