Dunk Tank
Dunk Tank
Deal 4 damage.
Corrupt: Then deal 2 damage to all enemy minions.
"When I said bring a tank to the dungeon, this is not what I had in mind!"
Dunk Tank is a rare shaman spell card, from the Madness at the Darkmoon Faire set.
Dunk Tank can be obtained through Madness at the Darkmoon Faire card packs, through crafting, or as an Arena reward. Regular Dunk Tank can also be obtained through the Highest Rank Bonus chest at the end of a Ranked season.
| Card | Crafting cost | Disenchanting |
| --- | --- | --- |
| Dunk Tank | 100 | 20 |
| Golden Dunk Tank | 800 | 100 |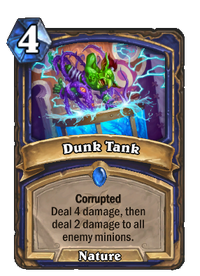 When Corrupted, Dunk Tank resolves all deaths and damage triggers between the initial 4 damage and the 2 Area of effect damage. For more details, see Earthquake#Notes.
Once Corrupted, Dunk Tank becomes a very efficient combination of removal and area of effect, basically casting Fireball and Consecration at the same time.
Since the initial 4 damage of Dunk Tank can go face, it can be used with Y'Shaarj, the Defiler alongside Circus Medic for huge burst damage, which can be further doubled with the Heart of Vir'naal (and Lightning Bloom).