Dragonblight Cultist
Dragonblight Cultist
Battlecry: Invoke Galakrond. Gain +1 Attack for each other friendly minion.
Galakrond would be extra mad if he was resurrected with gnaw marks on his bones.
Dragonblight Cultist is rare warlock minion card, from the Descent of Dragons set.
Dragonblight Cultist can be obtained through Descent of Dragons card packs, through crafting, or as an Arena reward. Regular Dragonblight Cultist can also be obtained through the Highest Rank Bonus chest at the end of a Ranked season.
| Card | Crafting cost | Disenchanting |
| --- | --- | --- |
| Dragonblight Cultist | 100 | 20 |
| Golden Dragonblight Cultist | 800 | 100 |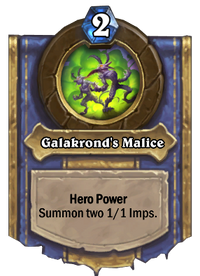 For information on how Invoke works, see Invoke#Notes.
The Draconic Imps summoned by the Invoke will count towards the Cultist's Battlecry, giving him effectively a minimum of +2 Attack.
With an empty board, this minion is a better version of Microtech Controller with the Invoke from Galakrond, the Wretched. Putting three minions on board is a powerful asset for Zoolock decks, and while the minion only has 1 Health, the amount of damage it threatens with a bigger board makes it dangerous for the opponent if they don't have any indirect damage or cheap minions to trade into it.
Summon

Bones of the fallen. Perfect.
Attack

All mine!