Dragon Soul
Dragon Soul
After you cast 3 spells in a turn, summon a 5/5 Dragon.
Crafted by Deathwing's goblin horde, but the dragon added the rainbow sparkles himself.
Dragon Soul is a legendary priest weapon card, from the Kobolds and Catacombs set.
Dragon Soul can be obtained through Kobolds & Catacombs card packs, or through crafting.
| Card | Crafting cost | Disenchanting |
| --- | --- | --- |
| Dragon Soul | 1600 | 400 |
| Golden Dragon Soul | 3200 | 1600 |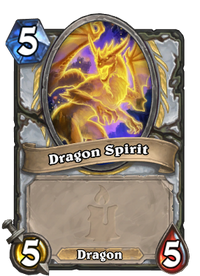 Dragon Soul is, obviously, best used in a Priest deck that utilises a lot of cheap spells. Spells that grant the Priest copies of cards in their deck, such as Shadow Visions, or cards in their opponent's deck, such as Thoughtsteal, will grant the Priest additional resources to complete this mini-quest while also counting towards the three-spell tally.
The card also has very strong synergy with Radiant Elemental and Lyra the Sunshard, which can give the Priest a limitless supply of cheap spells to use.
Once the player summons a Dragon Spirit, the tally resets and can be completed again on the same turn.
Unless the player has Lyra on the board, it is unwise to cast spells purely for the sake of reaching three that turn and summoning the Dragon.
From Wowpedia:
The Demon Soul, also known as the Demon Stone and formerly as the Dragon Soul, was an artifact of great power created by Deathwing shortly before the War of the Ancients. Though it appeared to be a featureless golden disk, it was in fact a talisman of immense power that could be used to destroy or enslave other dragons. The artifact was forged by Deathwing's goblin slaves, fused with the taint of the Old Gods and finally mixed with the blood of Deathwing himself.
The Demon Soul was once fastened to the Demon Chain, a seemingly ordinary loop of ornamental elementium chain that fills one's mind with dread as it touches one's flesh. The Soul has long since been destroyed, but the Chain, which may hold some residual power, was last seen in the possession of Warlord Zaela.
The Dragon Spirits summoned by the Dragon Soul in Hearthstone bear some similarity to the Heart of the Aspects and Soul of the Aspects, a World of Warcraft mount and pet that are both luminous golden dragons said to have been born directly from the energies of the Dragon Soul.