Deep Freeze
Deep Freeze
Freeze an enemy. Summon two 3/6 Water Elementals.
"Dancing with the Satyrs… on Ice!"
Deep Freeze is a rare mage spell card, from the Ashes of Outland set.
Deep Freeze can be obtained through Ashes of Outland card packs, through crafting, or as an Arena reward. Regular Deep Freeze can also be obtained through the Highest Rank Bonus chest at the end of a Ranked season.
| Card | Crafting cost | Disenchanting |
| --- | --- | --- |
| Deep Freeze | 100 | 20 |
| Golden Deep Freeze | 800 | 100 |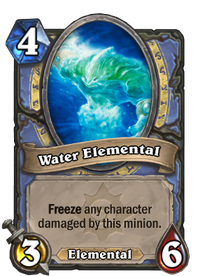 This card is essentially two Water Elementals and a Freezing Potion taped together into one card, mana cost and all. While costly, having instant access to freezing one minion helps with playing the card with less disruptions and the two Water Elementals can continue to freeze and disrupt other things later. It's generally best reserved for Spell Mage to pad out their need for minion generation.
Deep Freeze is a former Frost mage ability that stunned a Frozen target. It was removed in Legion.