Deathwing (Battlegrounds)
For other representations of Deathwing, see Deathwing (disambiguation).
Deathwing is a hero that the player can pick in the Battlegrounds game mode.
For more information, see Battlegrounds.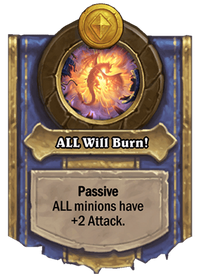 While Deathwing's symmetrical hero power is unremarkable in theory, in practice it gives him an extremely strong early game, letting him trade even a lowly Wrath Weaver into a Rockpool Hunter and making Murloc Tidehunter and Alleycat all but unbeatable on turn 1. The Attack buff means that whoever can field the most minions will have a significant advantage over the other when Deathwing battles, meaning that he will generally want to focus on token generators. Rat Pack is one of the best cards Deathwing can pick up as the buff allows it to summon more tokens that also receive the buff, making him a natural candidate for running Beast strategies—although Mechs and Demons also have a number of token generators he can use.
Battlegrounds
Heroes
Cards

Tier 1

Tier 2

Tier 3

Tier 4

Tier 5

Tier 6

Retired

Heroes

Minions