Cultist S'thara
Cultist S'thara
A silver tongue to accompany her silver daggers.
Cultist S'thara is a boss that can be encountered during the Monster Hunt.
Hero power
[
edit
]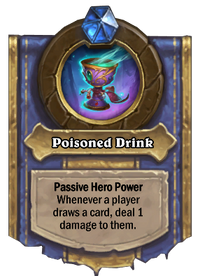 Passive
The below classes are listed purely for reference, and have no effect on the boss' use of the cards during the battle.
Strategy
[
edit
]
Darius Crowley
[
edit
]
Darius makes this fight easier than the others. With cards such as Forbidden Ritual, you hero power will keep you on step a head. It is recommended to keep your cannons in the middle for anything the boss may throw on you.
Houndmaster Shaw
[
edit
]
Having such as early boss in the game, could prove difficult for the hound master. Above all else you must survive the early game by keeping her board empty. This will involve sacrificing many minions. As long as she has lower health than you, you may want to keep killing her minions slowly and let her hero power finish her.
Toki, Time-Tinker
[
edit
]
Since she is able to flood the board fast, you will need low mana cards to play. Should a play not go your way, do feel free to rewind time. It is important to keep her minions on the board low while you try to get ahead. Having nothing to play could prove fatal.
Tess Greymane
[
edit
]
Using your minions in hand, don't simply go face with their abilities. Taking a slight amount of damage in the early game is no problem if you control the board. As long as she doesn't have a minion to harm you, you won.
Dialogue
[
edit
]
Before match
Hagatha The Witch

The Gilnean people will love me... once S'thara sways them.
Introduction
Cultist S'thara

Put down your weapons. Join us.
Emote Response
Cultist S'thara

Let's talk about it. Over a drink.
Player draws the cards
Cultist S'thara

Drink deeply. Go on.
How does it taste?
Yes. Drink.
Taking a first damage from Player
Cultist S'thara

Does this mean you're not in?
Player's cards
Cultist S'thara

Loot Hoarder

You can drink when he's gone.

Novice Engineer

Our newest initiate arrives. Cheers to her!

Acolyte of Pain

Oh... I like him.

Hallowed Water

Hallowed water? Ugh. Never could stand the taste.
Death
Cultist S'thara

(moans)
Defeat
Cultist S'thara

You would've made such a promising member.
Cultist S'thara is unique to Hearthstone. Based on the dialogue before and during the boss encounter, she appears to be a servant of Hagatha the Witch tasked with converting the people of Gilneas into the witch's servants.
Gallery
[
edit
]
Patch changes
[
edit
]
Monster Hunt
Heroes
Level 1
Level 2
Level 3
Level 4
Level 5
Level 6
Level 7
Level 8




Final Challenge