Crystalsmith Kangor (boss)
Crystalsmith Kangor
Just stand on the X. Why? No reason...
For the minion card of the same name, see Crystalsmith Kangor.
Crystalsmith Kangor is the final boss of the Survival lab in the Puzzle Lab.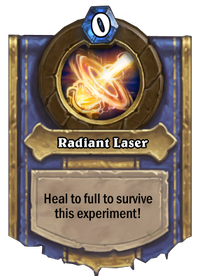 Before match
Crystalsmith Kangor

Enough, Glow-Tron. It is time for something more... illuminating.
Introduction
Crystalsmith Kangor

Our lab attracts the best and brightest. Lasers, that is.
Emote Response
Crystalsmith Kangor

I don't take this lightly.
*Sigh* I tried solar energy but we don't get much sunlight in the Netherstorm...
Idle
Crystalsmith Kangor

Do not look directly into the laser.
Dr. Boom will put this laser to good use. I am sure.
Hmmm... The light can be harnessed in so many ways.
If only we could glean some insight...
The light bends to my will… and I will it to destroy!
There are many ways to mitigate or absorb damage.
These lasers also drive the cats here crazy.
Restart
Crystalsmith Kangor

Begin again!
Deep thought may shed some light.
Hold still. You have tripped a breaker.
I see a ray of hope. You will succeed.
There is no use looming on it.
Puzzle 1
Crystalsmith Kangor

You will now test my latest laser. It is truly brilliant.
Puzzle 2
Crystalsmith Kangor

That is acceptable. Let us amp things up.
Puzzle 4
Crystalsmith Kangor

De-light-ful. It is all becoming crystal clear.
Puzzle 5
Crystalsmith Kangor

Mmm... You exude a radiant aura after being hit.
Mal'Ganis (unplayable; a sound isn't recorded and is in strings only)
Crystalsmith Kangor

More eternal than the light? I think not.
Return after leaving
Crystalsmith Kangor

You are back! Excellent. We were out of things to vaporize.
Completion
Crystalsmith Kangor

You have a bright future before you.

Dr. Boom

INCREDIBLE! I am granting you PRIORITY ONE access to the BOOMSDAY PROJECT!